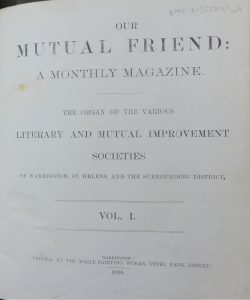 Overview
There are 12 issues of this monthly print magazine dating from June 1887 to May 1888 which were bound together in one volume in 1888. The entire volume is a total of 240 pages with each issue having 20 pages.
In the 'Preface', to Our Mutual Friend — a title chosen from the work of Charles Dickens —  it is stated that the periodical was founded by members of the Bold Street Wesleyan Improvement Society and intended for local circulation, but the group desired to have it preserved in a more permanent form. Members of other 'improving' groups in Warrington and the local region also contributed. The magazine was non-political and non-denominational, but was more generally framed as a Christian magazine.
Following the 'Preface', there is a 'List of Contributors'. Of the 32 listed, most of them are men, of which there are seven Reverends and one Alderman. There are also four women contributors, three being unmarried women and one married.
The 'Index' at the front lists the contents by month. This miscellany contains mostly prose articles and essays along with serial fictional stories, with about a quarter of each issue being original poetry.
Name of Club, Society or Group That Produced the Magazine
[Various Literary and Mutual Improvement Societies of Warrington, St Helens and the Surrounding District]
Date of Existence
1887?-1888?
Date of Magazine
1 June 1887-1 May 1888
Number of Issues
Vol. I (12 issues)
Manuscript/Published Magazine
Print
Contents and Contributions
Articles (non-fiction); Ballad (original); Correspondence column; Editorials; Essays; Fiction/Narratives; Hymn; Index; List of contributors; News (local branches of society); Poems (original); Preface; Title page
Repository
Cheshire Archives and Local Studies, held at Cheshire Record Office (Chester)
Reference
EMC 21/5334/149