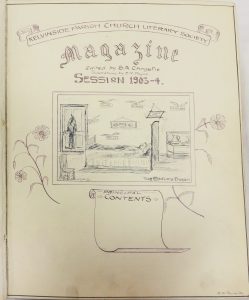 Overview
A summary of the history of the Kelvinside Parish Church Literary Society is available on our sister website, Glasgow's Literary Bonds (see 'Additional Notes' below).
There is only a single extant issue of this society's (yearly?) magazine, which is bound with a softcover and imprinted with the title and year on the front. With the exception of the title page, this magazine is entirely in typescript. There are 80 pages with a total of 25 short contributions, being mostly prose essays, a couple of sketches, and only three original poems. If the two articles on Robert Burns that include extracts of his poems is added, the number of pieces with poetry rises to five.
Unlike other periodicals of this type, this society devoted a larger percentage of its magazine to its own activities: over a quarter of the contributions were on the literary society's meetings and socials. Most of the pieces are anonymous, with authors signing with pen-names, and only one essay's author using initials.
Included in this issue is a page of jokes and a piece called, 'Do you Know?', which lists thirteen trivia questions about the society, some of which are jokes. The five pen-and-ink illustrations were all done by the same artist (E.N. Payne).
At the end of the magazine is the society's eighth annual report (Session 1903-04) and its financial statement for the same session.
Name of Club, Society or Group That Produced the Magazine
Kelvinside Parish Church Literary Society (Glasgow)
Date of Existence
1895-1926?
Date of Magazine
1903-04
Number of Issues
1
Manuscript/Published Magazine
Type-script, with illustrations
Contents and Contributions
Annual Report; Art/Illustrations (original); Essays; Financial Statement; Jokes; Poems (original); Poems (republished material); Sketches; Title page
Repository
Glasgow City Archives
Reference
CH2/1149/9/2/2
Additional Notes
See also entry for Kelvinside Parish Church Literary Society on our sister website, Glasgow's Literary Bonds.