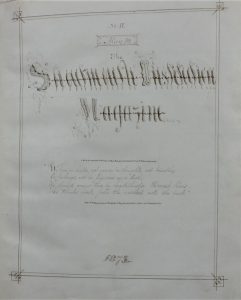 Overview
A summary of the history of the Spoutmouth Bible Institution is available on our sister website, Glasgow's Literary Bonds (see 'Additional Notes' below).
There is only one extant issue of this group's manuscript magazine. It consists of 136 pages with 11 contributions bound in one hardcover volume. There does not appear to be a limit set to the length of the pieces (as was the case with some magazines): the four longest articles and essays are between 20 and 27 pages, with others being between 5 and 10. There are also three original poems (one in dialect), but no artwork appears in this issue.
The contributors either leave their pieces unsigned or they use a pen-name. However, these may all have been re-written by the magazine's editors (?): it appears that there are only two different handwriting styles in the entire issue.
The first two articles in this miscellany are interesting as they relate the early history of the Institution and, along with a group photograph of the members that is dated 1856, we learn the histories of some of the early members. The last two pieces in the magazine are in fact obituaries of two former members.
Name of Club, Society or Group That Produced the Magazine
The Spoutmouth Institution (1848-1851), then became The Spoutmouth Bible Institution (22 September 1851-1940?)
Date of Existence
10 June 1848-1940?
Date of Magazine
No. II, 16 May 1873
Number of Issues
1 (extant)
Manuscript/Published Magazine
Manuscript
Contents and Contributions
Annotations; Articles (non-fiction); Essays; Obituaries; Photograph (members); Poems (original); Serial article/story; Table of Contents; Title page
Repository
Glasgow City Archives
Reference
CH3/1281/16
Additional Notes
See also entry for Spoutmouth Bible Institution on our sister website, Glasgow's Literary Bonds.