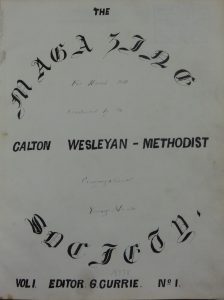 Overview
A summary of the history of the Calton Wesleyan-Methodist Congregational Young Men's Society is available on our sister website, Glasgow's Literary Bonds (see 'Additional Notes' below).
There are fifteen issues of this monthly magazine bound into one hard-cover volume. This includes the Supplement to the Magazine for December 1839 (Vol. I, No. XI), and contains an Index (pp. 282-4) to all the previous issues, including the supplement. The volume is paginated from pages 1 to 329, but is unnumbered in the March through May 1840 issues. Each issue is between 25 and 30 pages.
The March through December 1839 issues are all edited by Gilbert Currie. Interestingly, all these pieces appear to be in his own handwriting. The remaining issues — perhaps under a different editor — also appear to be written by one or two different hands. This was an uncommon practice in mutual improvement and literary groups. It was usually done to try to maintain the anonymity of the authors as their respective handwriting was presumably recognisable by other group members. This practice also helped to give a uniformity to the magazine, which, for some societies was of some import. In this case, it appears to have been to preserve anonymity and uniformity, as the authors of some of the original articles and poems used pen-names, and the handwriting gives the issues a consistency in appearance.
Like other mutual improvement (including church) societies' magazines, this is also a miscellany. However, while other society periodicals generally include contributions written on a wide range of topics, many of the pieces in this magazine are on religious issues and doctrine, and there are a number of reports on missionary activities abroad. Similarly, most of the essays and poems are moralistic in flavour. It appears that this magazine acts more as an extension and means of broadcasting the church's work rather than being an object for facilitating 'improvement' and providing amusement, which was more the norm.
Name of Club, Society or Group That Produced the Magazine
Calton Wesleyan-Methodist Congregational Young Men's Society (Glasgow)
Date of Existence
1839?-1840?
Date of Magazine
Mar. 1839-Jan. 1840, with Supplement to Dec. 1839; (no February 1840 issue; not extant?), Mar. 1840-May 1840
Number of Issues
15 (includes supplement)
Manuscript/Published Magazine
Manuscript
Contents and Contributions
Address; Articles (non-fiction); Correspondence column; Didactic works (reproduced); Essays; Hymns; Letters; Letters to Editor; Poems (original); Poems (republished material); Preface; Reports; Table of Contents
Repository
Mitchell Library Special Collections
Reference
NFF124/6/81, 5585510-585510a
Additional Notes
See also entry for Calton Wesleyan-Methodist Congregational Young Men's Society on our sister website, Glasgow's Literary Bonds.