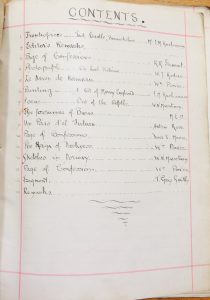 Overview
A summary of the history of the New Literary Club (which later became the Literary Twenty-One Club) is available on our sister website, Glasgow's Literary Bonds (see 'Additional Notes' below).
There is one (extant) issue of this club's magazine, which clearly carries on the format and style of the previous issues that were produced by the group under its former name, the New Literary Club, with several of its old members staying on. (See entry for New Literary Club Magazine.)
There are 107 pages in this issue. At the front, there is a list of 20 members with their respective addresses. The 15 contributions (see accompanying photo of the 'Contents') are mostly prose pieces with only one original poem; an article on Robert Burns, however, transcribes extracts of several of his poems. The artwork in this issue is in various media, the most common being watercolour. There are also several photographs.
Of interest is a recurring feature called a 'Page of Confessions', which is a list of 'favourite' items that must be filled in (e.g. 'Your favourite Author'; 'Your favourite Book', etc., ending with 'What is the height of your ambition'). There are three examples of these 'confessions' in this issue. While one contributor professed to love Charles Lamb and the Bible, another's reported favourite author was the French Renaissance writer and philosopher, Michael Sieur de Montaigne (1533-1592) and favourite book was The Compleat Angler (1653). One example of the 'Page of Confessions' also appears in The Holyrood Magazine, which was produced later.
Name of Club, Society or Group That Produced the Magazine
Literary Twenty-One Club (Glasgow)
Date of Existence
21 Apr. 1896-26 Mar. 1898
Date of Magazine
1896
Number of Issues
1
Manuscript/Published Magazine
Manuscript
Contents and Contributions
Art/Illustrations (original); Articles (non-fiction); Circulation List; Editorial; Essays; Frontispiece; Map; Music; Photographs; Poem (original); Poem (republished material); Readers' criticisms (pages left blank); Sketch; Table of Contents
Repository
Mitchell Library Special Collections
Reference
(Note: The records for this club are housed together with the records of The Holyrood Club (891047))
Additional Notes
See also entry for New Literary Club (later became Literary Twenty-One Club) on our sister website, Glasgow's Literary Bonds.