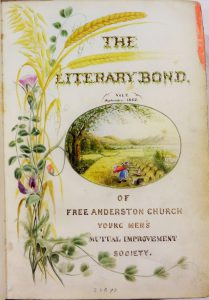 Overview
A summary of the history of the Free Anderston Church Young Men's Mutual Improvement Society is available on our sister website, Glasgow's Literary Bonds (see 'Additional Notes' below).
This society appears to have had a dynamic group of members that contributed to and supported the production of this magazine for over twenty years. The magazine was issued (mostly) monthly during the yearly session, which ran from October until April; like most societies, there were no meetings held (nor magazines issued) during the summer.
The length of each issue varies a good deal, and is dependent upon the number of pieces and the length of each contribution, which did not appear to have a limit as did some magazines. Each bound volume contains roughly a couple hundred pages (e.g. Vols. II-II, bound into one hardcover book, has 410 pages, while Vol. XIII, one of the slimmest, has approximately 200).
Each contribution is in the author's own handwriting, but the authors are on the whole not identifiable: pieces are either anonymous, signed with a pen-name, or more rarely with an initial or initials. However, when accompanied by artwork and/or other materials, each contributor's individuality and creativity shines through, and the care that was taken in the magazine's production is quite evident. These issues were valued and intended to be preserved.
There is a wide variety of subjects covered in the articles, essays, and poems. There is also a range of means used to illustrate these contributions: each issue (particularly the later ones) includes much good quality, detailed artwork in a range of media (pen-and-ink and watercolour being the most popular, although oil paintings are not uncommon). There are also a number of photographs, swatches of fabric, and cuttings from various printed media, which includes a map that has been folded and bound into one of the volumes. Most issues have an elaborate illustrated cover, as shown in the example of the photograph included here.
It was only in the 1890s in the later issues of the resurrected monthly entitled The Literary Magazine that Readers' Criticisms' — the comments that readers wrote into the blank pages of the magazine left for this purpose — were introduced. This section is located at the back of each issue, and readers mostly used pen-names. In a few cases, individual members can be identified by their initials.
The circulation lists for The Literary Bond only list men that are presumably members. The lists from the later 1890s issues show that by this time the society allowed women to join, and, from the 'Readers' Criticisms', we know that they contributed many of the pieces to the magazine.
Name of Club, Society or Group That Produced the Magazine
Free Anderston Church Young Men's Mutual Improvement Society (later became the Free Anderston Church Literary Society) (Glasgow)
Date of Existence
1849-1897?
Dates of Magazine
The Literary Bond: the Mitchell Library has Vol. 2 (Sept. 1862) – Vol. 13 (Dec. 1875), Vol. 16, No. 1 (Oct. 1876) – Vol. 18 (October 1879), and Vol. 21 (October 1881) – Vol. 22, No. 6 (March 1883) (Vols. 14, 15, 19 and 20 no longer extant?);
The Literary Magazine: the Mitchell Library has Vol. 1, No. 1 (Jan. 1896) – Vol. 2, No. 2 (Feb. 1897)
Number of Issues
The Literary Bond: 15 bound volumes containing a total of 121 issues;
The Literary Magazine: 2 bound volumes. (The total number of issues for this later magazine is currently unknown as Volume 2 was unavailable for viewing at time of research.)
Manuscript/Published Magazine
Manuscript
Contents and Contributions
Annotations; Art/Illustrations (original); Articles (non-fiction); Circulation Lists; Cuttings (printed materials); Editorials; Essays; Fiction/Narrative; Letters; Letters to Editor; Magazine Rules; Music; Photographs; Poems (original); Prefaces; Readers' Criticisms; Reviews; Serial articles/stories; Sketches; Tables of Contents
Repository
Mitchell Library Special Collections
Reference
Mitchell (AL), 891310 (The Literary Bond)
Mitchell (AL), 891311 (The Literary Magazine)
Additional Notes
See also entry for Free Anderston Church Young Men's Mutual Improvement Society on our sister website, Glasgow's Literary Bonds.