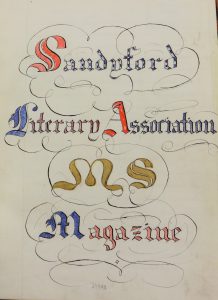 Overview
A summary of the history of the Sandyford Church Literary Association is available on our sister website, Glasgow's Literary Bonds (see 'Additional Notes' below).
This was a first attempt at a magazine from this association, and either it was not a success or further issues have not been preserved. It contains thirteen articles written in different hands, with blank pages at the end of the volume for readers 'to briefly record any remarks or criticism which they may have to make on the various papers' (Preface). These pages are blank, so readers evidently did not respond as hoped. The editorial preface mentions the 'youthful inexperience' of writers and the 'disadvantages against which we strive', asking readers not to view contributions 'in the strong light of professional standards.'
The magazine contains interesting accounts of 'Local Government in India' by a writer who worked in the British civil service and of churchgoing in Canada, in 'On the Verge of the Backwoods'. The unsigned 'Sitting on a Volcano!' is particularly notable: it responds to Rev. Andrew Mearns's famous pamphlet 'The Bitter Cry of Outcast London' in highlighting the plight of the poor, in Glasgow as well as London, but disagrees with his call for greater mission activity and religious education; arguing that good housing, food and clothing are the primary needs and that religion is secondary.
The magazine also contains a report on the Sandyford Church Literary Association and its activities, highlighting a rise in numbers, improvement in participation, and successful new monthly meetings involving the whole congregation. This report also mentions joint debates held with St George's Literary Association and the Park Literary Institute (see 'Additional Notes' below).
The magazine includes travel writing and accounts of work overseas, description of Scottish places with some illustrations, articles on steam navigation, Shakespeare, 'Newspaper Politics' and a satirical semi-fictional account of poetic ambition, 'A Budding Bard.'
Name of Club, Society or Group That Produced the Magazine
Sandyford Church Literary Association (Glasgow)
Date of Existence
1879-?
Date of Magazine
1883
Number of Issues
1
Manuscript/Published Magazine
Manuscript
Contents and Contributions
Art/Illustrations (original); Articles (non-fiction); Editorial; Essays; Fiction/Narrative; Readers' Criticisms (pages left blank); Report; Title page
Repository
Mitchell Library Special Collections
Reference
642424
Additional Notes
See also entry for Sandyford Church Literary Association on our sister website, Glasgow's Literary Bonds.
See also entries for Free St. George's Literary Association, and The Park Literary Institution on Glasgow's Literary Bonds.